The Pecan
Pecan trees are large, deciduous trees that are related to hickory trees. The pecan can easily be identified by its rich brown kernel, distinctive grooved surface and distinct flavor from other tree nuts. Some people describe it as almost buttery in flavor. It is possible to purchase pecans in a variety of sizes which makes them an incredibly versatile food.
While pecans usually take center stage on the holiday table usually in the form of a pecan pie, these delicious nuts deserve to be enjoyed throughout the year as a healthy snack.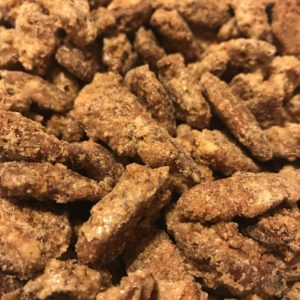 Candees Delicious Sweet Roasted Pecans
Candees sweet roasted pecans are made with only the finest locally produced pecans. Hand selected, prepared and baked to a golden goodness, these tastefully charged pecans are a perfect snack, a fantastic addition to a sweet potato casserole or great when preparing a pecan pie!